Kimball and the Fugitives with Brian Kent on Sax

Stickshift Annie Eastwood

Gaye Anderson with a
B-Day cake
for Annie Eastwood!

The Blues Dog,
Inspiration for
Left of the Dog Music

Here's what fans and friends are saying about the big Birthday Bash at the New Orleans!!
Thanks for the great party last Sunday! We all had a great time. I wish I had more energy to stay and jam , but I had to get up very early for school the next day! Keep in touch!
Danny !

Thanks for the links, the photos and a great time.
Joel

Thank You! We had so much fun. I just wish it wasn't a week night. I suffered on Monday! I just looked at the Horseshoe calendar and it looks like they are booked through April. It would sure be great to see you sometime soon. I looked at the pictures on your website. (You should take ours out!) Great party! Be sure to let us know if you get any gigs near by. We will try to make the Rockfish in May.
Sara Nordquist

Oh what fun we had! Thanks for inviting us and thanks for sending our picture. I notice that my cocktail hadn't arrived yet, but I still look
happy. You seem to have a lot of great fans and friends. How nice to see them all having a good time. It was a great show, too, oh by the way. We had coincidently met Brian (the sax player) on Friday night at a dance for Eddie's tip club in Preston. What a small world!
Hope to see you again soon!
Kathy

Thanks for the great party. I really had a nice time and was honored to be included. And now I'm even on the internet!! It was great to see you both and listen to Annie. Happy Birthday.
John

Here's what the fans are saying about Stickshift Annie and the Overdrive
Live performances and their CD.

See the Events page for Annie's schedule with Stickshift Annie with Kimball and the Fugitives


I was reading your web page and reasoned that it was about time for "the fan" to contribute. I sense that you are somewhat surprised by all of the great reviews. You shouldn't be. Yours is a truly unique sound-one which the music industry has needed for years. As a group, SSA&O has managed to blend blues and jazz into, perhaps, a new form. A listen to "Out of Her Mind" is an adventure in "what's new." Ian and Ed are masters and compliment each other tremendously well. Carl and Jack constitute a rhythm section which holds each track superbly on course. James Middlefield's harp wails like a voice crying in the wilderness. Annie is a gem! Where have you been all my life? Suffice it to say that "Out of her Mind" is a collector's item. I hope you've begun work on the sequel. I'm anxiously awaiting it's release.

Coincidentally, I loaned the CD to a friend. When I asked him what he thought, he said that his only complaint was that the CD is too short. He bought his own copy. Keep up the great work. The world needs your music and so do I.
Ellsworth Greenvale - 9/26/01
I've been listening to your cd all day! It sounds great! I wish you much success in your sales!
Skitch 7/12/01
Since getting your CD we've been inspired to listen to the blues. Our cable music channel favorite had previously been the Big Band (believe it or not), but now we've started to get into the Blues channel. Thanks.
Wally and Sharon - 7/30/01
Hey Annie!
I finally have a chance to tell how much I like your CD. Excellent work. I'm really impressed. I drove around with it in the car to really get the feel of it. You sing with a lot of "attitude" which is great! I like James harmonica work too. someone driving with me once commented on it too. Also I was very impressed with the art work. Top quality that!
Oh and good songwriting too!
wem 7/28/01
I've been listening to your CD for days. I love it of course. I've been trying to find something derivative about it, but I haven't. I think it's a completely original sound. I've compared Annie to Marcia Ball but there aren't many similarities. Annie, and the whole sound really, is smoother, more refined. Not watered down, just cleaner. Marcia Ball is more Honkey Tonk, you folks seem closer to jazz and Annie has a better voice.
Of course there are differences in recording techniques. I have a fairly revealing stereo (tubes and such) so I hear a lot of differences in the engineers' vision of what a recording should sound like. Your engineer did a fine job. He spread the instruments out across the sound stage very nicely. Annie has great voice and the band is top notch. (I noticed some very nice bass work also.)
I've been trying to identify a favorite song but it changes with the day. I think "I Don't Know" should be playing on the radio somewhere. Maybe on the jazz stations. I have a friend who would love to have your music. He's a huge blues fan and I wouldn't give him any music unless I thought it was the best.
Bruce - 7/14/01
Last night was terrific and you guys were in fine, fine form. Lots of applause during your songs too; it seemed more like a show than a regular gig.
Leslie - 7/12/01
Thanks for the great show! I think we had a bigger turnout for a general meeting than ever, and I believe that a part of that is due to your fan-base. Your new CD is great and I need to track you guys down and have you sign one for me. Thanks much,
-Zab- Washington Blues Society board member (7/16/01)
Actually I already enjoyed your CD this morning as I was on the road to see clients. Nice job! Cool arrangements, nice songs, and the playing and singing is great. I really like the sound your producer got on the guitars. I thought the mix on the harp was really nice.
Tom - 7/14/01
Email from a fan after performance at Washington Blues Society monthly meeting 7/11/01
Thank you for performing for the members. From the response of the crowd you were sure a hit. Please pass on our thanks to the other members of the band.
Chuck WBS President - 7/12/01
Email from a fan after listening to the new CD
I have enjoyed your new CD, especially on a warm sunny Seattle day, it makes me feel like "I'm Burning Up." Everytime I "Stand Up for Something," I feel like a "Troubled Fool." My wife has the "Moody Woman Blues" and sometimes I think "She's Out of Her Mind." And to top it off, I only found 3 cents in my slipper!! You guys are doing a great job.
Bob 7/5/01

Email from a fan after performance at Oxford Saloon - April . 27th 2001
Greetings James, Annie and band, Leslie and I really had a blast listening to your band. Thanks for inviting me up to jam with you. You guys are a great band and a lot of fun on stage. James, it was fun playing in the "horn section" with you! I hope we can do it again sometime soon. We will continue to spread the word and tell people to go check out Stick Shift Annie And The Overdrive. Best of luck to you, Randy Oxford
Email from a fan after performance at Oxford Saloon - April . 27th 2001
We have put your dates on our calendar and will plan to see you on at least some of those dates. We had a great time at the Oxford and enjoyed our first experience of Stickshift Annie and The Overdrive! Joe
Email from a fan after performance at Coles Oasis, Tacoma - March. 10th 2001
Oh wow!!! The girls just LOVED the band! We stopped by a few other places before the night ended, but Coles was definitely the highlight, and not just for me. Thank you so much for helping to make Stef's night so fun and memorable. After we left Coles, my Mom happened to call on my cell phone and Stef was just raving about the band. Please extend my thanks to the rest of the group!
Annie
Email from a fan after performance at Oxford Saloon Feb. 24th 2001
Wow, I went to the Oxford last night to finally catch the act, and had a great time!! Tons of talent, great entertainment, and I even got Mardi Gras beads! If I hadn't had the flu, I would have been up dancing, even if I couldn't find anyone to dance with. It was hard to sit still! Can't wait to get the new CD [I did buy a T shirt, and have the poster from the womens' room, so my collection of SSA&O stuff has begun....].

Thanks to James and Annie for being such gracious hosts. I look forward to seeing them again at the BB Awards. I will be finding my way to another gig soon, even if it's down south, and will bring my friends with me! [Thanks for keeping me posted.]
Leslie Fleury
WA Blues Society
Email comments from a fan after SA&O performance at Coles Oasis in Ruston/Tacoma 2/3/01
Sticks and Strings; Hips and Lips; and 0 to 80 in 6.3 !!!!!!!!!!!!!!!!!! Truly a night to remember!

Life in the "Blues-Lane" just can't get any better than this! You guys stepped on stage - the flag dropped, and the crowd was accelerated into -"Overdrive"! To experience your music - in first and second gears is so overwhelming - I mean, man, so frigg'in overwhelming - that you catch the audience off-guard. It's like gett'in to the top of the Roller-Coaster tracks............... and then drop'in off the other side.
By the time we reach the bottom of the drop, we're at - "0 to 80 in 6.3" and scream'in into the Rock'in Road-House 'S-Curves' - the dance floor was waving to the sounds.... Blasting out of the 'S-curves we've banged through fourth gear and into................ OVERDRIVE ! Your later sets build the house into a frenzy - you guys are just "To Damn Much Fun"!!
You guys grab us by the 'short-hairs' and slam us into third gear with your intense sounds and the Kewl-Cat characters of 'The Overdrive' baring their souls.
I've never seen Cole's @ SRO - everyone standing and dancing in their seats. Dave will have to at least double, and probably triple his 'bar-wench' staff for your gigs. We're planning on the Oxford next, though earlier will be the bill for a table - hope their ready! Damn - that CD can't come soon enough ........ especially with "O-Drive's" new tunes...........I want to have Ian's version of "The Car" by Barry....... blasting in mine........ Even........ if I have to fund the CD.......... It'd be worth the bread..... for the head-tune! And "Wail'in Jack" - why the Hell you been hid'in him? - Man ...... can he Cook! "ShowBoat Carl", shifting them sticks and blending the strings into a beat is your back-bone!

If James lip'd that "mouth-organ" much more - it'd be his "Sixth Appendage" reach'in for the Moon! And then there's Overdrive's secret weapon - "ED" .........Is "ED" the star- crossed blend of Berry and Hendrix? He's like the 'rocket-booster' that kicks the band into "Overdrive". And Annie's "New Hot-Pants/Wet-Look", when she shook that "bitch'in-booty" ...... I damn near forgot that she could wail a tune... Man keep that for the 'end' of the night! Just knowing that Babe's in that kind of gear don't bother with 'skivvies'........ just...well.... Hell - it was time to throw my trophy-lady over the shoulder; and head for the back seat of my '56 Caddy!

Count us in for the long haul. Gotta - go ............ memories of last night are leading to more romance; and the need to play your up-n-comming CD .... (soon).

Thanks to everyone........ Be Kewl!
Ray "MaddDawg" GoldenGate

Comments from Performance at Coles Oasis Tavern 11/3/00
Wow! You guys rock. We had a great time. Wish we could have stayed later. I'd like a CD so I can jam to it on my horn. When ya comin' back (to Coles)?--Mark C.
I really liked you guys! Too bad I had to go to work Saturday morning. I would like to have stayed longer, but I had a 9 am meeting and had to blow. ---- Al E.
Yep, it was a good night and we enjoyed ourselves. Thanks for a good show. I like the band. Bruce C.
Hey - seriously... I tipped them (Coles) for the waters... Some of us just can't take the extra alcohol that late. Especially after a bottle of wine at dinner. Hey...Man - we don't wanna causa ya no grief!!!! No way man!!!!! Please say Hi!!! to the "hot-number" in the long dress (Annie)!!!---MadDawg
From Forecasters Tavern-Woodinville
Jeremy really enjoyed the band when you played in Woodinville, and he mentions you in conversation every so often. We'll try to come to one of the festivals. I love the Bite!
Marie - after the fourth time out to hear the band.

I thought everyone sounded great! I enjoyed watching people dance too. The volume was fine. Good turn out! The harmonica playing was wonderful! I would most definitely come again!
Take care, -Lisa Kay

You guys sound so good! Even better than before. I particularly liked the way Annie was working the crowd (toss that hair!), the way James wandered all around the bar with harmonica in hand, and the way y'all kept your cool when the dancers knocked stuff down. It was particularly... intimate, being that close to the band. And you could be well heard from the other end of the bar too, where we spent most of our time. Keep inviting me! See you later!
Thanks again! =) Marie

"We had such a great evening. The group is still talking about it. The next day, a bunch of guys in the house were asking me about it because they heard that we had a great time. Annie Eastwood is unbelievable. I am proud to be a Stickhead. You know how honored I am to have that title. Please keep me up to date on future gigs. Especially if they include a dance floor! Cuttin' a rug to the beats of SAO!"
Joseph Gustafson....a.k.a.seaner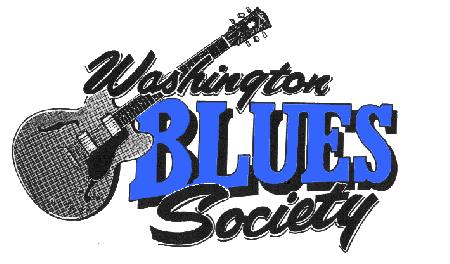 The Bluesletter, May 1999 - The Official Monthly Publication of the Washington Blues Society
Review by: Gumbo Gal of April 14th performance at Ballard Firehouse
.......Next up was Stickshift Annie and the Overdrive. This is another new band on the scene. They performed a great set. Annie Eastwood is the lead vocalist for SSA&O (hey, kids, you're so good, you've already earned an acronym!) and this little lady can really belt a tune! She has a natural, amiable stage presence that just draws her audience in. The band performed an eclectic set of original tunes, Blues and R&B standards that had the crowd up and dancing and feeling happy to be alive. ....... By now, the crowd was totally pumped but SSA&O weren't finished with us yet. To end their set, they brought members of Jerone & the Derelicts and Cosmo and Dante back to the stage and proceeded to knock us out with a rollicking version of 'Thank You' (Falettin' me Be Mice Elf Again). I don't know how many musicians were on stage at this point, but suffice it to say that it was a party! Audience members who weren't dancing were standing up and singing and clapping along! This was a memorable moment.-----Gumbo Gal

"I heard a rumor that Stickshift Annie is going to be playing somewhere in Monroe during the month of March. I would be really happy to find out when and where because I have several friends that would like to find out why I am raving about you guys. Thanks"
Judy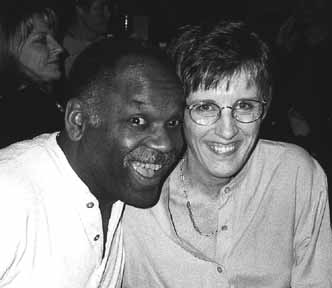 Stickheads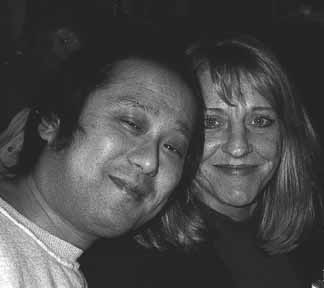 Stickpeople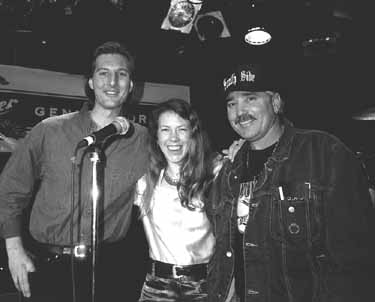 "Just wanted to send you a quick note to let you know how much we enjoyed hearing you on Saturday. I also had a call from my friend Wendy who was there, telling me the people they had brought with them had called her to let her know how much fun they had! A fun evening for all!"
Vicki

You must abandon this silly dream.....learn to play bridge or enjoy Jeapordy together. Don't EVER give up. You guys were good, and more importantly it's something you like to do so just keep doing it. I did enjoy it, it was good music, a beautiful day.... (Tacoma Old Town Blues Festival)
P. Brownell


"Wow, were you wonderful! Thanks for inviting us to your big evening. It was fun to watch you talented people entertain. Hope I got some good pictures! Let us know your next performance."
Nancy and Cliff